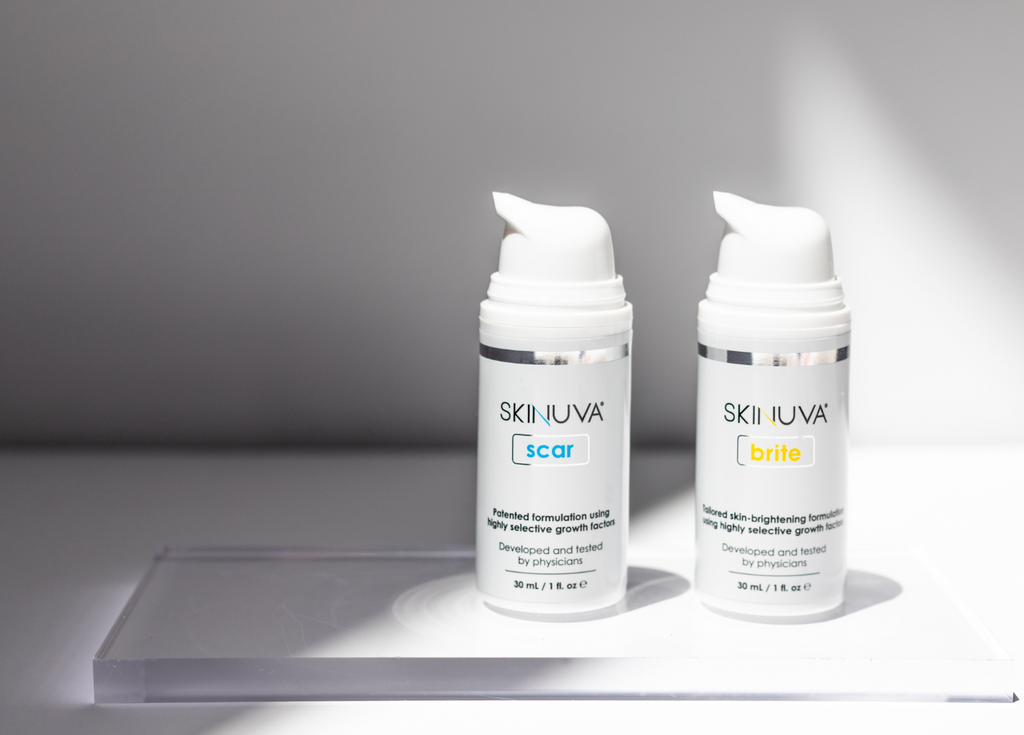 Scars can be very difficult to get rid of after a surgery or injury and there are certain factors that affect their appearance. Not only do scars become raised, but they often become hyperpigmented and the area will become darker than the skin surrounding the scar. Depending on your skin complexion, scars can become dark brown in color or even red or purple in color.
While improving the appearance of hyperpigmented scars can be difficult, there are topical scar creams and other skincare products that can help reduce hyperpigmentation. Skinuva Scar has been clinically proven to improve the appearance of scars, including the thickness, redness and hyperpigmentation associated with a scar. 
What Causes Hyperpigmentation in Scars?
Hyperpigmentation is caused by an overproduction of melanin, a group of natural pigments that are responsible for skin tone. The darker the skin tone, the more melanin in the skin. Genetics also plays a role in how your skin heals as well and can contribute to hyperpigmentation in scars. Scars can become hyperpigmented if they heal poorly and become inflamed and/or if they are exposed to the sun during the healing process. This type of acquired hyperpigmentation is termed post-inflammatory hyperpigmentation (PIH). 
Treating Hyperpigmented Scars with Skinuva
Skinuva Scar and Skinuva Brite are physician developed, clinically tested, contain highly selective synthetic Growth Factors, and can both be used during different stages in your scar healing process.
Skinuva Scar is our revolutionary scar cream with ingredients that help flatten raised scars and reduce the thickness, redness and hyperpigmentation associated with scars. Selective synthetic Growth Factors were chosen that allow scars to heal as normal as possible. These growth factors work to reduce redness, hyperpigmentation, and the thickening of skin. One of them is TGF-B3, which is a specific growth factor that has been shown to improve scars in studies by improving the redness and hyperpigmentation associated with scars.  TGF-B3 also helps promote the right type of collagen production necessary for scarless wound healing. 
What makes Skinuva Scar stand out among regular silicone cream is that Skinuva's formulation includes ingredients that all have a role in improving scars.  Silicone has long been used to treat scars as it promotes a hydrated environment for the skin to heal. In addition to Silicone, Skinuva Scar contains Hyaluronic Acid, which promotes hydration, health cell function and healing, and helps the Growth Factors reach the skin. Centella Asiatica and Aloe Vera offer their wound-healing, soothing, and anti-inflammatory properties, and Vitamin C acts as a powerful antioxidant and helps synthesize collagen and also improve hyperpigmentation.
As seen in the figure above taken from a published clinical study in the Aesthetic Surgery Journal, scars that were treated with Skinuva Scar (SKN2017B) saw continued improvement in hyperpigmentation over the course of the 3-month study, while scars treated only with regular silicone cream only saw slight improvement. Skinuva Scar outperforms regular silicone cream thanks to its formulation of synthetic Growth Factors, Silicone, Hyaluronic Acid, Centella Asiatica, Aloe Vera, and Vitamin C.*
Skinuva Scar should be used twice daily, morning and night, for 3-6 months to see best results. If after using Skinuva Scar there is residual hyperpigmentation of the scar, Skinuva Brite can then be used.
Skinuva Brite is a non-hydroquinone skin brightening cream and uses selective synthetic Growth Factors that have been shown to improve acquired hyperpigmentation including melasma, post-inflammatory hyperpigmentation (PIH), and sunspots. It was created as an advanced alternative to hydroquinone and includes other ingredients such as Tranexamic Acid, Arbutin, Vitamin C, and Niacinamide (Vitamin B3).
Although not a scar cream, Skinuva Brite helps improve the hyperpigmentation in scars that are a result of PIH. If after using Skinuva Scar for 3-6 months the scar has become flat but is still hyperpigmented, Skinuva Brite can be used to further help improve the appearance of the scar. Skinuva Brite is safe and gentle for long term, daily use. It should be used twice daily, morning and night, on scars that are still hyperpigmented and it can be used indefinitely to maintain an even skin tone.