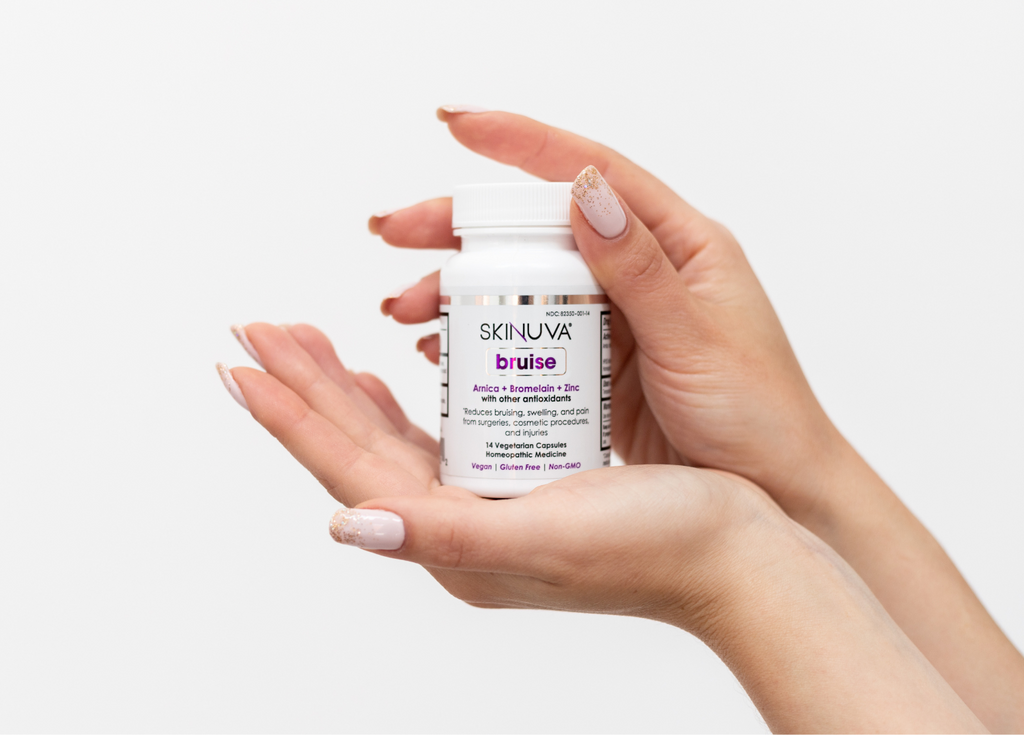 Skinuva Bruise is the newest physician developed, clinically supported, and solutions driven product in the Skinuva pipeline. Skinuva Bruise is a vegan and vegetarian friendly, non-GMO, and gluten free homeopathic supplement that was formulated to help reduce bruising, swelling, and pain. 
Skinuva Bruise has many different uses, ranging from surgeries to minor injuries, and is an excellent product to have on hand to speed up your healing process.
What Can Skinuva Bruise Be Used For?
Skinuva Bruise is a great product to use for surgeries (cosmetic and non-cosmetic), cosmetic procedures, injuries, dental work, and more. If you have an upcoming surgery, you may begin using Skinuva Bruise 1-2 days prior to your surgery or beginning the day of your surgery (and use for a total of 7 days) to reduce any bruising, swelling, or pain that may result post-surgery.
"We use Skinuva Scar and Skinuva Bruise. These two products really help the patient with scarring, bruising, and swelling and we've really had excellent responses to them. We try to incorporate them into everybody's package and everyone's pre and post operative care," says aesthetic and reconstructive plastic surgeon Dr. Enrique Hanabergh MD, FACS.
If you routinely get Botox, fillers, laser/chemical peel/microneedling treatments, or other cosmetic procedures, you can add Skinuva Bruise to your treatment plan to reduce your chances of bruising and discomfort. Skinuva Bruise is also good to have in your medicine cabinet at home in case you are someone who bruises easily when injured.
In addition to the above uses of Skinuva Bruise, it can also be used as an alternative to oral steroids for dental work. Dentists sometimes prescribe oral steroids for their patients to reduce pain and inflammation from procedures such as wisdom teeth removal, root canals, and more. Oral steroids can sometimes have negative side effects, so Skinuva Bruise is a great non-prescription alternative.
"As a dentist who performs both cosmetic and reconstructive dentistry in Hollywood and Beverly Hills Tru Glo Modern Dental, I need to make sure my patients heal as well and as quickly as possible from their procedures," says Dr. Rhonda Kalasho, DDS, CEO of TruGLO Modern Dental.
"I recommend Skinuva Bruise to all my patients that are undergoing oral surgery procedures at True Glo Modern, such as wisdom teeth extractions, or even implant placements, as the product has clinically proven ingredients that help improve pain, swelling and bruising from dental procedures."
What Ingredients Are Included in Skinuva Bruise?
Skinuva Bruise contains several clinically supported ingredients. Skinuva Bruise uses a safe version of homeopathic Arnica Montana (HPUS) that has been used for hundreds of years within homeopathic medicine for pain, swelling, and post procedural recovery. Homeopathic Arnica is an anti-inflammatory known for its wound-healing and pain-relieving properties. Our 30X dosage of Homeopathic Arnica was scientifically reviewed by panel of regulatory consultants to ensure its safety profile and has been found to be safe for use in patients before and after treatment or injury.
Also included in Skinuva Bruise is Bromelain, which is used to reduce bruising, pain, and soreness. Grape Seed Extract contains antioxidants that help alleviate inflammation. Vitamin C, an ingredient included in all Skinuva products, is essential for the body's production of collagen. Another ingredient, Rutin protects blood vessels, prevent bruising, and enhance the effect of Vitamin C in the body. Zinc plays a major role in regulating every phase of the wound healing process.
Skinuva Bruise is FDA registered and manufactured by an FDA registered facility with a regulatory process to ensure product safety. One bottle of Skinuva Bruise contains 14 easy to swallow veggie capsules. This product was specifically formulated for a 7-day (short-course) treatment, so 2 capsules should be taken per day or as directed by your physician.
Purchase Skinuva Bruise today or learn more here!