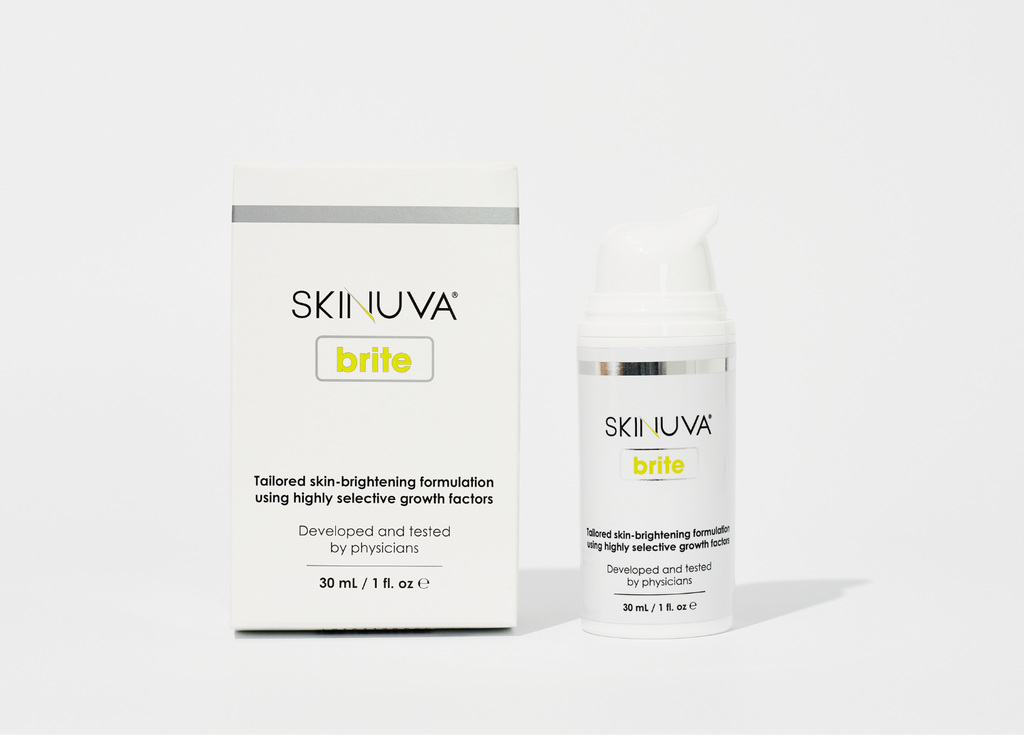 Hyperpigmentation is a common skin condition in which areas of skin on the face or body become darker in color than the normal skin tone. Hyperpigmentation can be very difficult to improve, and topical treatments such as skin brightening creams can help reduce the hyperpigmentation. In addition to topical treatments, procedural treatments such as IPL, laser, chemical peels, or microneedling may also be performed to reduce the appearance of the hyperpigmentation.
Skinuva Brite is an advanced, science-backed skin brightening cream that is hydroquinone-free and does not contain any other harsh ingredients such as retinol, parabens, dyes, or other peeling-like agents. Instead, its selective use of synthetic growth factors that specifically help improve hyperpigmentation and its formula consisting of other clinically backed ingredients make it one of the most effective products in improving hyperpigmentation. 
What Is Skinuva Brite, and What Are Its Ingredients?
Skinuva Brite is a skin brightening cream that was specifically designed as an alternative to hydroquinone to be safe for daily long-term use, but also to provide results in improving hyperpigmentation. Skinuva Brite helps improve melasma, post-inflammatory hyperpigmentation (PIH), sun spots, under eye circles, dark spots, and more.
Skinuva Brite does not contain any harsh ingredients, but instead includes scientifically proven ingredients in its formulation:
Selective Synthetic Growth Factors: Epidermal Growth Factors and others have been shown to help reduce the appearance of hyperpigmentation and improve the inflammation that can result in hyperpigmentation
Tranexamic Acid: Helps minimize the appearance and recurrence of discoloration and stubborn brown patches with continued use.
Niacinamide (Vitamin B3): Water-soluble vitamin that has been shown to help reduce the appearance of skin discoloration.
Vitamin C: Powerful antioxidant and prevents melanin production.
Arbutin: Found in bearberry plants and reduces hyperpigmentation.
Why You Should Choose Skinuva Brite to Treat Hyperpigmentation
Unlike most skin brightening products on the market, Skinuva Brite has a published clinical study proving its safety and efficacy. Skinuva Brite was clinically shown to be nearly 30% better than HQ 4% in a head-to-head clinical trial that was published in the Journal of Cosmetic Science.* 
Skinuva Brite's revolutionary Growth Factor technology and other ingredients are more effective at improving hyperpigmentation than HQ, and because it does not contain HQ, it can be used twice daily, morning and night, and long term. 
Other advantages over HQ and other skin brightening products include its pleasant scent, easy use, safe ingredients suitable for all skin tones and types, and a better value for doctors, patients, and customers.
If you are looking to improve your hyperpigmentation and want to achieve your brightest, most even complexion, add Skinuva Brite to your daily routine today!