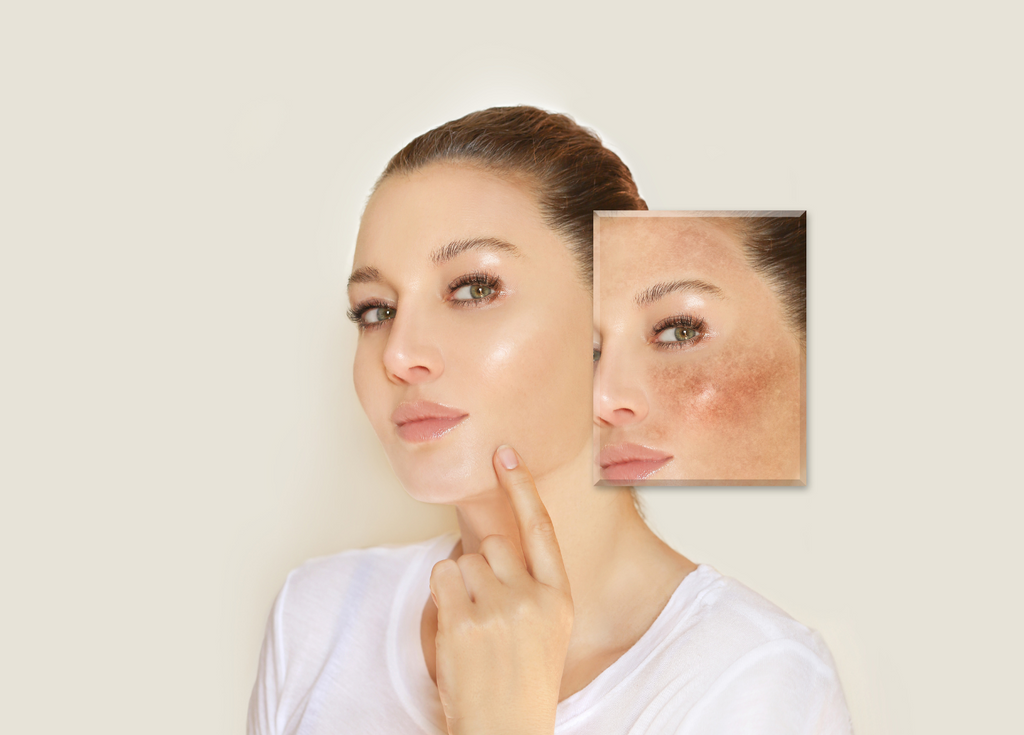 As summer begins and we start to spend more time outdoors and in the sun, it is important to protect our skin from direct and excessive sun exposure to avoid damaging our skin or developing unwanted hyperpigmentation. If you currently have hyperpigmentation or melasma, it is still necessary to protect your skin to not worsen the melasma. 
There are several preventative measures you can take to shield your skin, especially your face, from the sun. If you currently have hyperpigmentation or melasma, and want to treat it even during the summer, Skinuva Brite may help improve its appearance.
What is Melasma and Can It Get Worse in the Summer?
Melasma is a common skin condition that typically appears on the face. It is usually characterized by brown or tan patches that are usually darker than the person's natural skin tone. While hormones often play a role in developing melasma, it can also be affected by the sun and can get worse in the summer months.
When spending time outside in the sun, always wear an SPF greater than 30 and keep an SPF on hand to reapply throughout the day. Wearing a hat, sunglasses, and protective clothing or seeking out shade are also important for those with melasma or those looking to avoid sun damage or developing hyperpigmentation.
How Can Skinuva Brite Help Treat Melasma?
You should consult your doctor about treatments for hyperpigmentation and/or melasma. Topical treatments such as a brightening cream may help improve hyperpigmentation. While hydroquinone has often been used to treat hyperpigmentation under the care of a physician in the U.S., it can sometimes have adverse side effects and is not safe for long term, daily use. In fact, it is now banned for consumer use in the U.S.
Skinuva Brite is a patented, physician developed, and clinically tested skin brightening cream that does not contain hydroquinone. Skinuva Brite uses selective synthetic Growth Factors that have been shown to improve hyperpigmentation and was created as an advanced alternative to hydroquinone. Skinuva Brite includes other ingredients such as Tranexamic Acid, Arbutin, Vitamin C, and Niacinamide (Vitamin B3) and was shown to be 30% more effective than hydroquinone 4% in improving hyperpigmentation in a published clinical study.
"I have been a skin therapist in Los Angeles for over 39 years working as a medical esthetician and never seen just a fabulous product that works so well on pigmentation," says Eti Elison, Advanced Skin Care Therapist, L.E. about Skinuva Brite. "The ingredients are clean and super effective! All my clients are extremely satisfied!"
Skinuva Brite has been shown to improve melasma, sunspots, under eye circles, post-inflammatory hyperpigmentation, and more. It is safe for long term, daily use, is gentle on all skin tones and types, moisturizes the skin, and can be worn under sunscreen and makeup. For best results, Skinuva Brite should be used twice daily, morning and night.
If you have hyperpigmentation, purchase Skinuva Brite here.