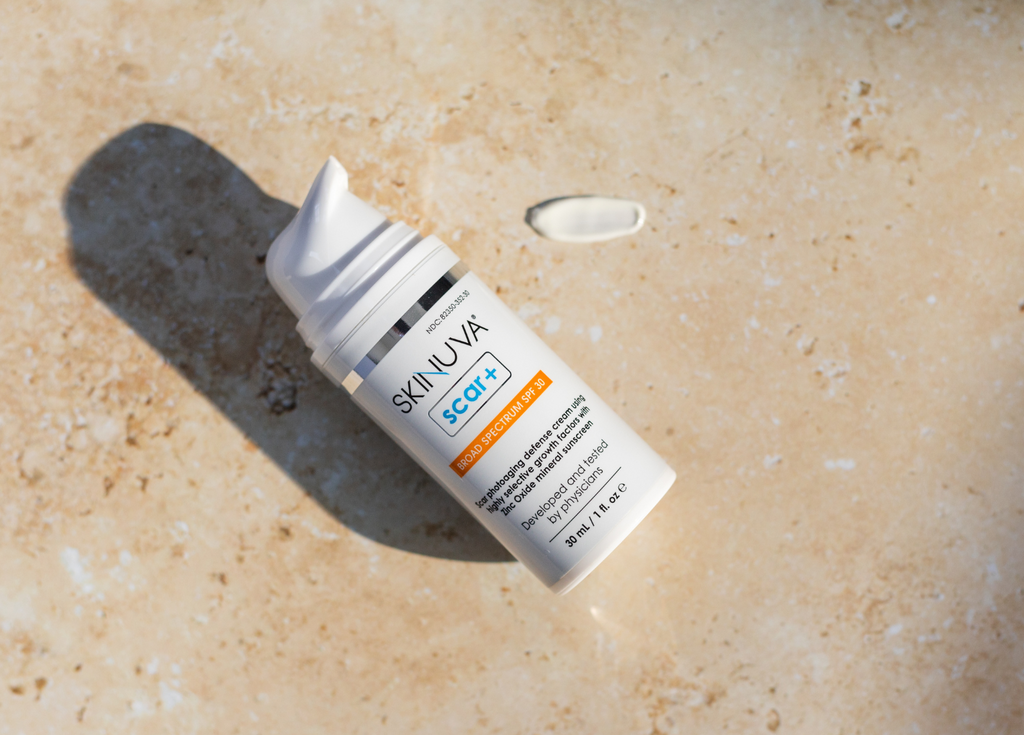 Skinuva is excited to announce the launch of its newest physician developed and solutions driven product, Skinuva Scar+ SPF. Skinuva Scar+ SPF is a scar photoaging defense cream using highly selective growth factors with Zinc Oxide mineral sunscreen.
Skinuva Scar+ SPF has all the benefits of the original Skinuva Scar but with added non-nano Zinc Oxide for broad spectrum UVA/UVB protection to help improve the appearance of scars in sun-exposed areas. Skinuva Scar+ SPF has the same key ingredients included in the original Skinuva Scar that help improve the appearance of scars, such as synthetic Growth Factors, Silicone, Hyaluronic Acid, Centella Asiatica, Aloe Vera, and Vitamin C. Skinuva Scar+ SPF reduces redness and hyperpigmentation associated with scars while also protecting the skin from the sun's harmful rays with non-nano Zinc Oxide.
Why Skinuva Scar+ SPF?
We wanted to provide our physicians, patients, and customers with a scar cream that effectively improves scars that are in sun exposed areas while also protecting them from sun damage. Non-nano Zinc Oxide helps protect skin from sun damage by acting as a shield on the skin's surface and reflecting and absorbing UVA and UVB rays. Zinc also has anti-inflammatory properties which can help aid skin in the healing phase.
"I am excited for the launch of Skinuva's newest product, Skinuva Scar+ SPF," Dr. Matthew Elias, DO, FAAD of Elias Dermatology in Fort Lauderdale, FL.
Skinuva Scar+ SPF has been specifically formulated for areas exposed to the sun such as the face, neck, and hands to minimize the darkening effects associated with sun exposure and help reduce the appearance of redness and hyperpigmentation. Skinuva Scar+ also helps prevent sunburn in sun-exposed scars. If used as directed with other sun protection measures, Skinuva Scar+ decreases the risk of skin cancer and early skin aging caused by the sun.
"We are incredibly excited to provide our latest product, Skinuva Scar+ SPF, to our trusted physicians and their patients. Our original development of Skinuva Scar was to provide the most advanced and clinically effective scar cream on the market," says Christopher Zoumalan MD FACS, CEO and Founder of MD Medical Designs, Inc. (Skinuva). "Having achieved that, we now provide the added benefits of Zinc Oxide mineral sunscreen within the same clinically proven ingredients of Skinuva Scar to help improve scars in sun-exposed areas of the skin."
If you have a sun-exposed scar you are looking to improve, try Skinuva Scar+ SPF today!