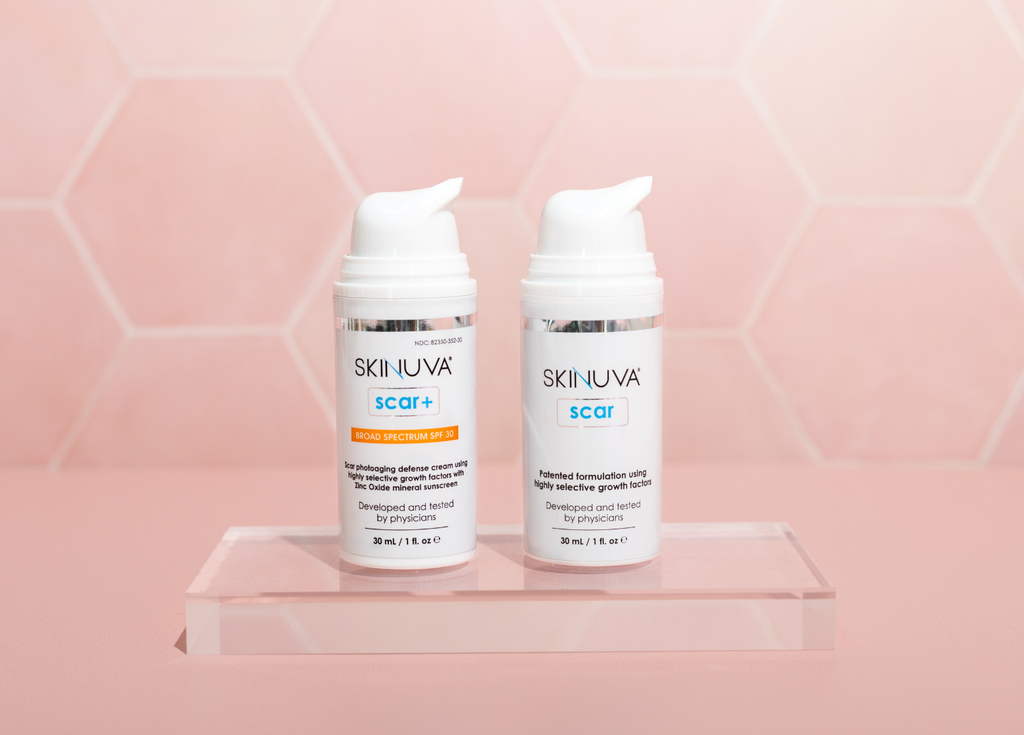 After a surgery or injury, you may be left with a scar at the site of the incision or injury. New scars are more fragile than the surrounding skin, so it is not only important to treat the scar to ensure it heals properly, but it is crucial that the scar be protected from the sun if it is on an area of the body that gets a lot of sun exposure.
If sunscreen is not used on the scar, the scar tissue can become even darker than the surrounding skin and can become more difficult to improve. Topical scar creams are a great treatment option for improving scars, and there are also scar creams that already include SPF in them. Skinuva Scar and Skinuva Scar+ SPF can be used together to treat and improve your scar all throughout the day and night. 
What Ingredients Are in Skinuva Scar and Skinuva Scar+ SPF?
The first product in the Skinuva pipeline, Skinuva Scar is backed by 5 published clinical studies proving its safety and efficacy in improving scars, burns, and stretch marks, as well as healing the skin after laser, microneedling, and chemical peel treatments.⁠ ⁠Available in 3 sizes, Skinuva Scar helps flatten raised scars and reduces redness and hyperpigmentation of scars with its formulation of synthetic Growth Factors, Silicone, Hyaluronic Acid, Vitamin C, Centella Asiatica, and Aloe Vera.
Skinuva Scar+ SPF uses the same clinically proven ingredients as Skinuva Scar listed above, but also includes non-nano Zinc Oxide for the additional benefit of broad spectrum SPF 30 UVA/UVB protection. Zinc Oxide acts as a shield from the sun's harsh rays, protecting the skin from sun damage. It is also well-tolerated and safe for use in everyone.
When to Use Both Skinuva Scar and Skinuva Scar+ SPF
If your scar is on an area of the body that is exposed to a lot of sunlight, applying a sunscreen to your scar is an important step in the healing process and is the reason why we developed Skinuva Scar+ SPF. Using an SPF or a scar cream with SPF helps protect your skin from the sun's harsh rays and helps reduce further hyperpigmentation from developing.⁠
Skinuva Scar+ SPF comes in two sizes, a 15mL bottle and a 30mL bottle. It is ideal for scars that are located on areas of the body that are often exposed to the sun, such as the face, neck, and hands. Skinuva Scar+ SPF should be applied in the morning and reapplied every 2 hours throughout the day if spending significant time outdoors. 
Skinuva Scar can then be applied instead once at night. It is important to note that neither Skinuva Scar+ SPF or Skinuva Scar should be used until the incision site or targeted area is completely healed (usually 2-3 weeks post-surgery). For best results in improving the scar, both products should be used for 3-6 months.
To purchase Skinuva Scar+ SPF and Skinuva Scar together, build you custom Skinuva bundle today!