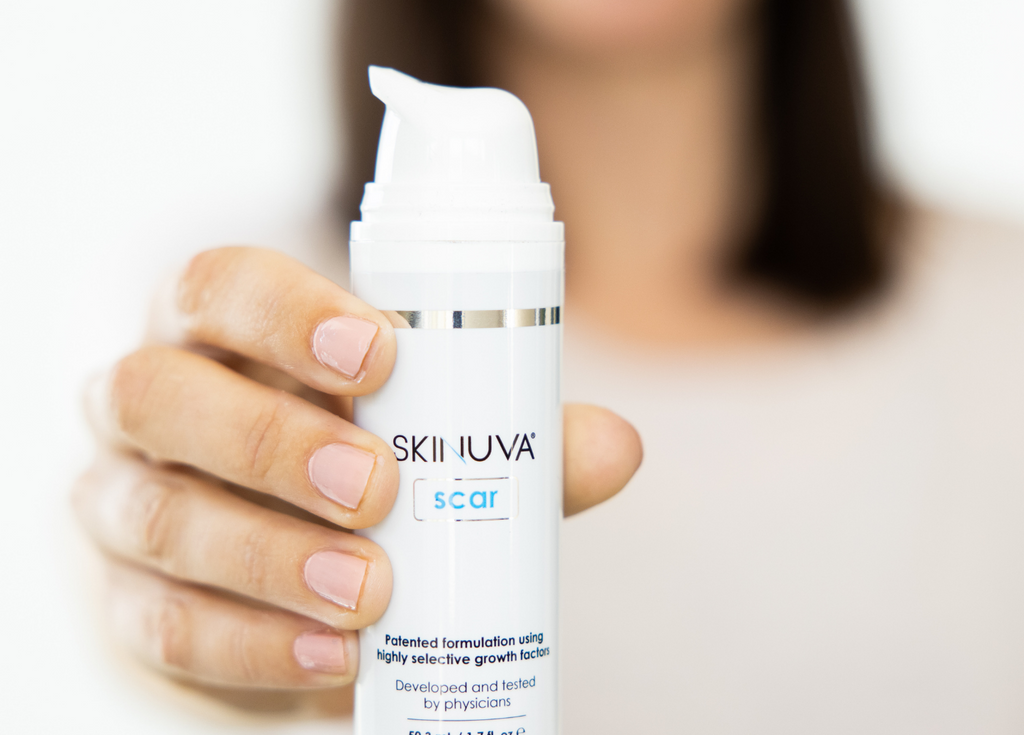 Skinvua® Scar has revolutionized the scar treatment industry with its highly advanced and unique formulation and extensive clinical data supporting its safety and efficacy. With ingredients such as selective synthetic Growth Factors, Silicone, Centella Asiatica, Hyaluronic Acid, Vitamin C, and Aloe Vera, Skinuva® Scar is backed by 5 clinical studies and is proven to improve the appearance of scars.
While some of these studies show Skinuva® Scar's ability to improve scars more effectively than silicone cream or other treatments, Skinuva® Scar has also been shown to help with stretch marks, burns/sunburns, and microneedling, laser, or chemical peel treatments.
Improving Stretch Marks with Skinuva® Scar
Although Skinuva® Scar was primarily developed to improve the appearance of scars, it has also been clinically proven to help improve the appearance of Striae Distensae (or stretch marks) according to a study published in the Journal of Cosmetic Science. In this study, patients reported over 86% improvement in their stretch marks after just one month of use.* 
Skinuva® Scar contains ingredients that are safe for pregnant and breastfeeding women, so it may be used during and after pregnancy to help improve stretch marks.
Using Skinuva® Scar after Laser, Chemical Peels, or Microneedling Treatments
If you have undergone a recent laser, chemical peel or microneedling treatment, Skinuva® Scar can help improve the skin's recovery process after the treatment. In a study published with the American Society for Laser Medicine and Surgery (ASLMS), Skinuva® Scar was proven to be tolerated well and safe and effective in healing skin post C02 laser treatment.* Most patients use Skinuva® Scar twice daily for two weeks post laser treatment, chemical peel, or microneedling.
After this period and once your skin has recovered from the treatment, you can also apply Skinuva® Brite, our revolutionary skin brightening cream, indefinitely twice a day to optimize and maintain the evenness of your skin tone and to help improve the appearance of any hyperpigmentation that you may notice.
Soothing Sunburns with Skinuva® Scar
The clinical study published in ASLMS proves Skinuva® Scar's efficacy in treating CO2 laser burns, and its ingredients such as Aloe Vera (which have soothing, hydrating, and anti-inflammation properties) have been shown to improve burns. Therefore, Skinuva® Scar can also be used to help soothe sunburns until they are fully healed. In some instances, this may be up to 2 weeks.
If you have had any of the above treatments or have stretch marks, burns, or scars, try Skinuva® Scar today in one of our three available sizes. You can purchase Skinuva® Scar here.