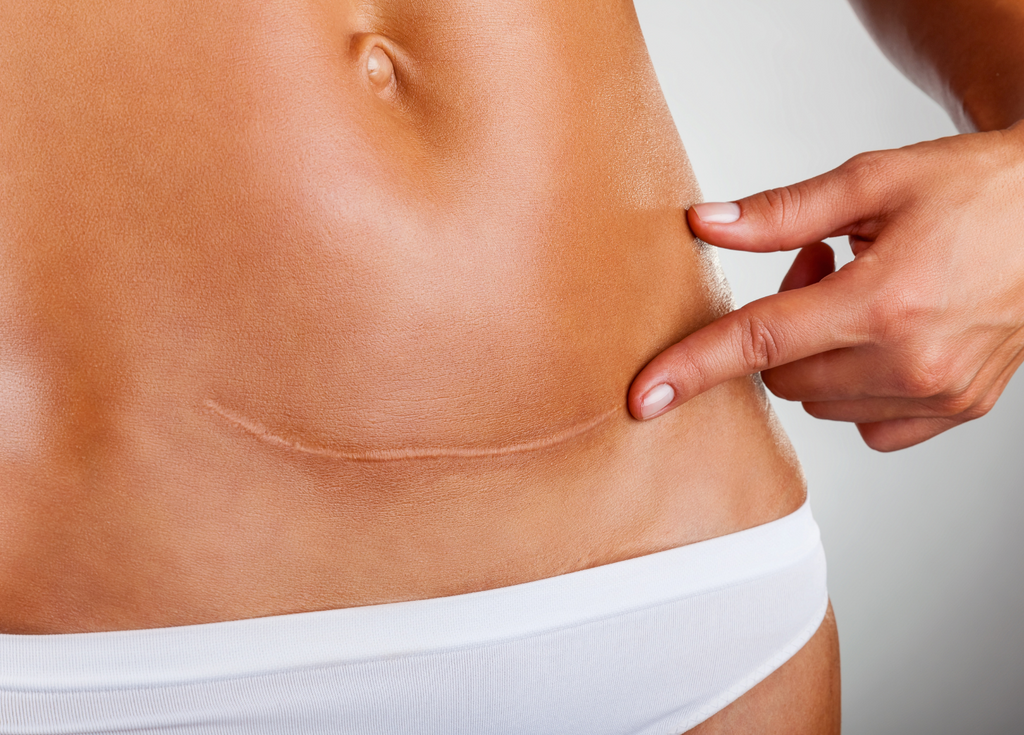 April is Cesarean Awareness Month, aiming to raise awareness and educate people on cesarean sections. Nearly one third of births in the U.S. are c-sections, and they are usually performed due to potential medical complications.
A c-section requires a doctor to make an incision that measures roughly 4-6 inches in length in the lower abdomen, leaving women with scars of a similar size. There are several treatments for improving scars that result from c-sections, including topical scar creams. Skinuva Scar is a revolutionary, physician developed, and patented scar cream backed by clinical data that is proven to improve the appearance of scars and can be used for c-section scars. 
C-Section Scars
Post-operative care for scars after c-sections can be difficult depending on the way the scar forms. Depending on the woman's skin tone, genetics, and how the incision site is closed (stitches, staples, surgical glue), a different type of scar may form. Hypertrophic scars are raised and ridged with a pink or red complexion, and keloid scars are raised and lumpy in appearance with a red or purple complexion and are more difficult to improve.
C-Section scars are typically somewhere between 4-6 inches in length but can vary depending on the placement of the incision and the space required to birth the baby. Some women may struggle with the aesthetic appearance of their scars and may seek out different methods of treating their scars, including topical scar creams.
Using Skinuva Scar for C-Section Scars
Skinuva Scar is a patented, physician developed scar cream backed by 5 published clinical studies that prove its safety and efficacy in improving the appearance of scars. Using selective synthetic Growth Factors as well as scientifically proven ingredients such as Silicone, Hyaluronic Acid, Centella Asiatica, Aloe Vera, and Vitamin C, Skinuva Scar can both flatten and smooth raised scars and reduce hyperpigmentation of scars better than regular silicone cream.*
Skinuva Scar is safe for all skin tones and types and should be used twice daily, morning and night, for 3-6 months. It works best on younger scars, so women who have had c-sections and have scars less than 1 year old may see better results than those whose scars are older than 1 year. Skinuva Scar is also more effective on hypertrophic scars, so women with keloid scars may have to seek additional treatments such as steroid shots, laser therapy, surgical removal, etc. 
To learn more about Skinuva Scar, visit the Skinuva Scar product page here.
Skinuva Scar is a physician developed, clinically backed, patented scar cream developed and tested in the U.S.