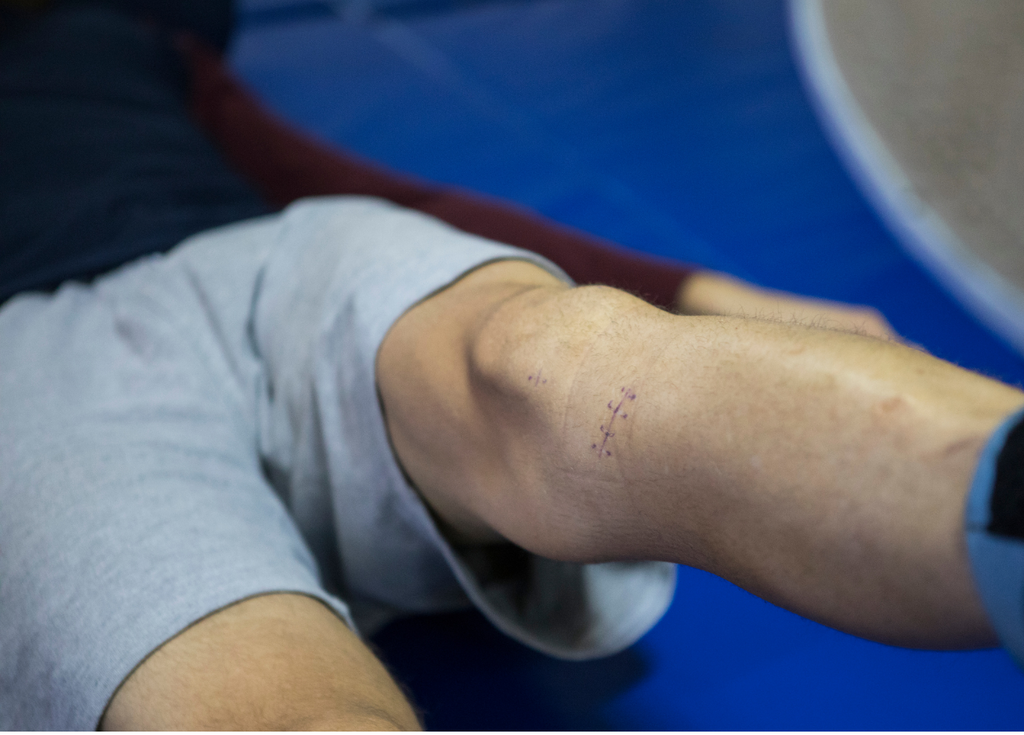 While Skinuva Scar and Skinuva Scar+ SPF are commonly used for healing post-cosmetic surgery scars, they are also great products for scars from orthopedic surgeries. Orthopedic surgeries focus on treatment of the musculoskeletal system and include but are not limited to knee and hip replacement surgery, rotator cuff surgery, hand and wrist surgery, and ACL surgery. The recovery process for these types of surgeries can be difficult and using products like Skinuva Scar or Skinuva Scar+ SPF can help with the healing journey.
Common Types of Orthopedic Surgeries
There are several types of orthopedic surgeries, all of which have different recovery processes and may leave the patient with different sized scars:
Joint Replacement Surgeries: These surgeries involve replacing damaged joints, such as hips or knees, with artificial implants to relieve pain and improve overall joint functionality. Scars from hip replacements can be anywhere from 3-8 inches, while knee replacement scars can be 4-7 inches in size.
Fracture Repair Surgeries: Sometimes severely broken bones may require surgery to realign and stabilize the bone with screws, plates, or rods. Depending on the bone that needs repairing, the scar can greatly vary in size.
Ligament or Tendon Repair Surgeries: Injuries to ligaments or tendons, such as a torn ACL or torn rotator cuff, may require surgery to restore stability and functionality to the affected joint. These scars are small, with ACL scars measuring up to only 1/4 of an inch and rotator cuff scars roughly 2-3 inches in size.
Healing Orthopedic Surgery Scars with Skinuva
Before beginning any treatment for your surgery scar, it is important to ensure that the incision site has completely healed first (typically 2-3 weeks after suture removal). Using a topical scar cream regularly can help flatten raised scars and improve hyperpigmentation of scars. While silicone has long been the gold-standard ingredient for treating scars since it helps keep the skin hydrated and create a protective barrier, there are other ingredients that are beneficial for scar healing.
Skinuva Scar and Skinuva Scar+ SPF are physician developed and clinically supported scar creams that help reduce scar thickness, pigmentation, and itchiness. Both products include selective synthetic Growth Factors, Silicone, Hyaluronic Acid, Aloe Vera, Vitamin C, and Centella Asiatica that work to improve the appearance of scars. Skinuva Scar+ SPF has the added benefit of non-nano Zinc Oxide for broad spectrum SPF 30 protection. Protecting a sun-exposed orthopedic surgery scar from the sun is crucial, for UV rays can cause further hyperpigmentation of scars. Using a scar cream such as Skinuva Scar+ SPF or covering the scar with bandage or clothing will help protect it from further damage.
Improving the appearance of scars is not an overnight process, so consistent use of Skinuva Scar and/or Skinuva Scar+ SPF is important. You should apply the scar cream twice a day, morning and night, for at least 3 months. While Skinuva works best on newer scars less than a year old, it may help improve older scars, but longer use (up to 6 months) may be necessary. 
If you have an upcoming orthopedic surgery that may leave you with a scar, add Skinuva Scar and Skinuva Scar+ SPF to your post-surgery care routine!