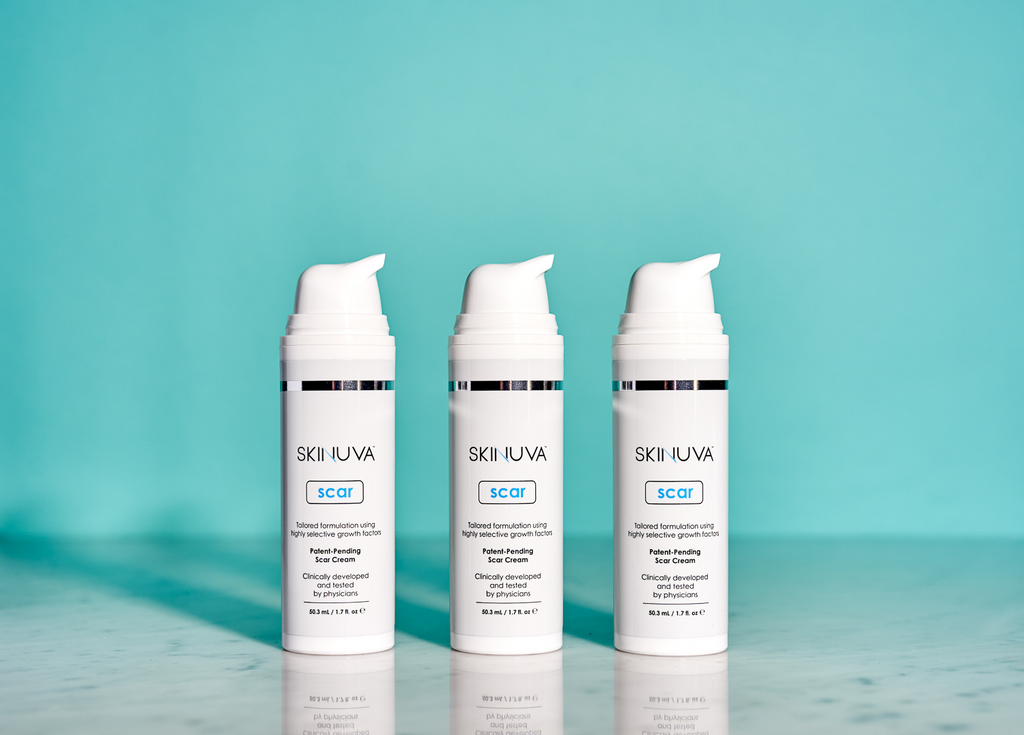 For years, people who suffered from surgery, traumatic or hypertropic scars had no other option but the live with these marks on their skin. Major medical advancements in surgical procedures have minimized scarring, but patients may still be concerned with the post-surgery scars that remain. Eventually, medical procedures that help minimize the appearance of scars would emerge, as well as silicone creams, strips and other over-the-counter products. 
The lack of advancements in the topical scar therapy industry sparked the interest in developing a superior product backed by clinical data and medical literature: Skinuva Scar.
Silicone creams and medical procedures in treating scars
Medical procedures that are used to improve the appearance of scars include dermabrasion, laser therapy, surgical revision, and even injectable fillers to improve deeper and pitted scars.
Silicone cream is a well-studied hydrator and occlusive solution that works to keep scars moist in order to heal well and prevent dehydration. Keeping a wound hydrated is important in that it will help the body produce a more flexible scar that will be more easily reduced in the future. Silicone has shown efficacy in improving scars, for silicone strips and creams can indeed flatten, smooth and fade raised scars.
What sets Skinuva Scar apart from its competitors? 
The topical scar market lacked significant advancements and clinical trials for scar creams. Skinuva Scar's success is due in large part to the patience in research and formulation that were put into its creation. Skinuva's team of physicians and scientists used their knowledge of wound healing and fetal scarring while formulating the first and only scar cream in the industry to use selective synthetic Growth Factors in its formulation. Scar healing in fetuses occurs due to a complex up-regulation and down-regulation of certain Growth Factors.
Selective synthetic Growth Factors were chosen that allow scars to heal as normal as possible. These growth factors work to reduce redness, hyperpigmentation, and the thickening of skin. They also help promote the right type of collagen production necessary for scarless wound healing. 
While silicone cream has been a key ingredient in treating scars for decades, it is not the only ingredient in Skinuva Scar that is backed by science and highly safe and effective. Hyaluronic Acid promotes hydration, health cell function and healing, and helps the Growth Factors reach the skin, Centella Asiatica and Aloe Vera offer their wound-healing, soothing, and anti-inflammatory properties, and Vitamin C acts as a powerful antioxidant and helps synthesize collagen. 
Skinuva's Growth Factor technology and its other natural ingredients make it one of the most advanced scar creams in the industry. The support of its 5 published clinical studies prove its safety and efficacy as a revolutionary and superior product.
To learn more about Skinuva Scar or to purchase it today, click here.