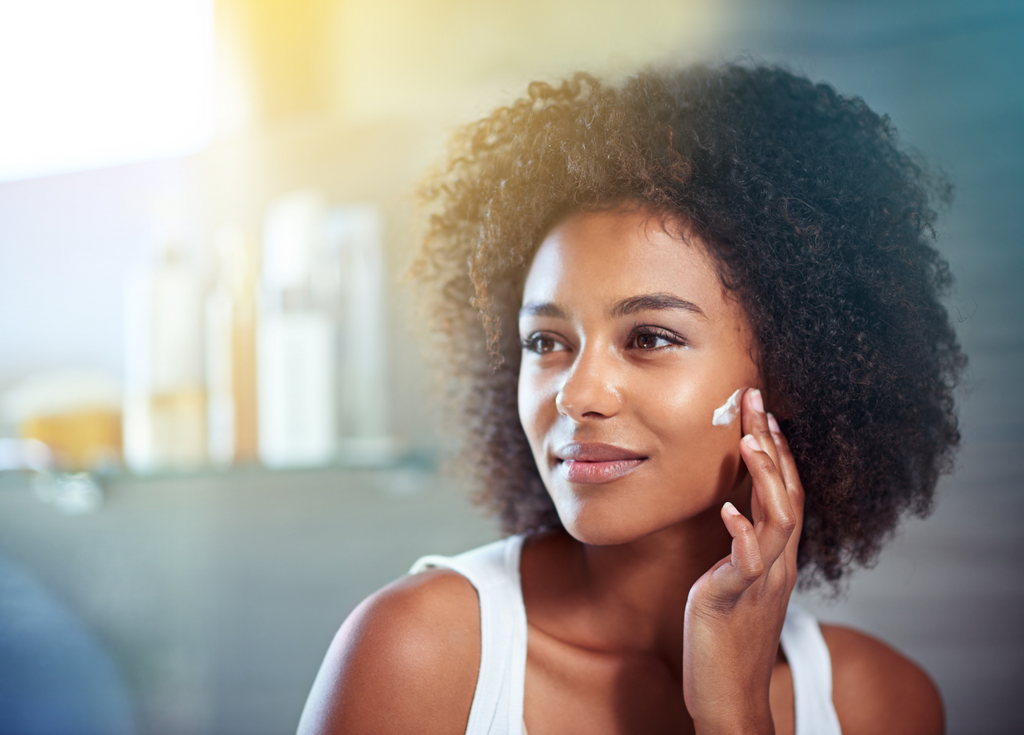 Taking care of your skin is an important part of health that often goes overlooked. While it is important to develop a skin care routine to keep your skin looking great, skin care is more than just a beauty routine.
Skin Care Awareness Month is meant to highlight the importance of understanding and recognizing your skin's needs, using products to maintain healthy skin, prevent skin damage and aging, and making sure to visit your doctor with any skin concerns you may have.
Why is Having a Good Skin Care Routine Important?
An effective skin care routine can help lead to a glowing, radiant complexion and help improve or prevent acne, wrinkles, and other signs of aging. It can also contribute to a boost in self-confidence and feeling great in your own skin. 
Incorporating quality products daily like facial cleansers to clean and remove impurities, moisturizers to keep the skin hydrated, and sunscreens with at least an SPF 30 can help contribute to a good, effective routine. Other products such as exfoliators to remove dead skin cells, toners to smooth/calm the skin and restore nutrients, and serums or creams for specific issues such as redness can also be added to your morning or nightly routine to provide additional benefits for the skin. It is important to use products that have quality ingredients. Poor quality skin care products can contain harsh ingredients that may cause adverse reactions that can lead to ineffective results and even worsen the initial skin concern.
Skin care routines go beyond using the right products. Regular self-examinations of your skin should be added to your routine to keep track of any changes in the appearance, texture, or color of your skin. Knowing your skin well will help you understand your skin needs, but you should visit with a dermatologist if you have any serious concerns. 
Adding Skinuva® Products to Your Routine
Skinuva's solutions-based products are revolutionizing the skin care industry by using science-backed ingredients such as synthetic Growth Factors and clinical data to help improve issues like scarring and hyperpigmentation. 
If you recently had a surgery, procedure, or injury that has left you with a scar, you can incorporate Skinuva® Scar into your morning and nightly routine to help improve its appearance. Its selective synthetic Growth Factors, Silicone, Centella Asiatica, Hyaluronic Acid, Vitamin C, and Aloe Vera work together to help smooth and flatten the scar and improve its hyperpigmentation.
Skinuva® Brite can also be added to your morning and nightly skin care routines if you suffer from melasma, post-inflammatory hyperpigmentation, sunspots, under eye circles, and more. Using its own formulation of synthetic Growth Factors as well as Tranexamic Acid, Niacinamide, Arbutin, and Vitamin C, Skinuva® Brite is a gentle, moisturizing brightening cream suitable for all skin tones and types. Since it does not contain hydroquinone, it is safe and effective for long-term use, so it is a great product to keep in your morning and nightly routines for an extended period. 
Learn more about Skinuva® Scar and Skinuva® Brite to see if you might benefit from adding them into your skin care routine!