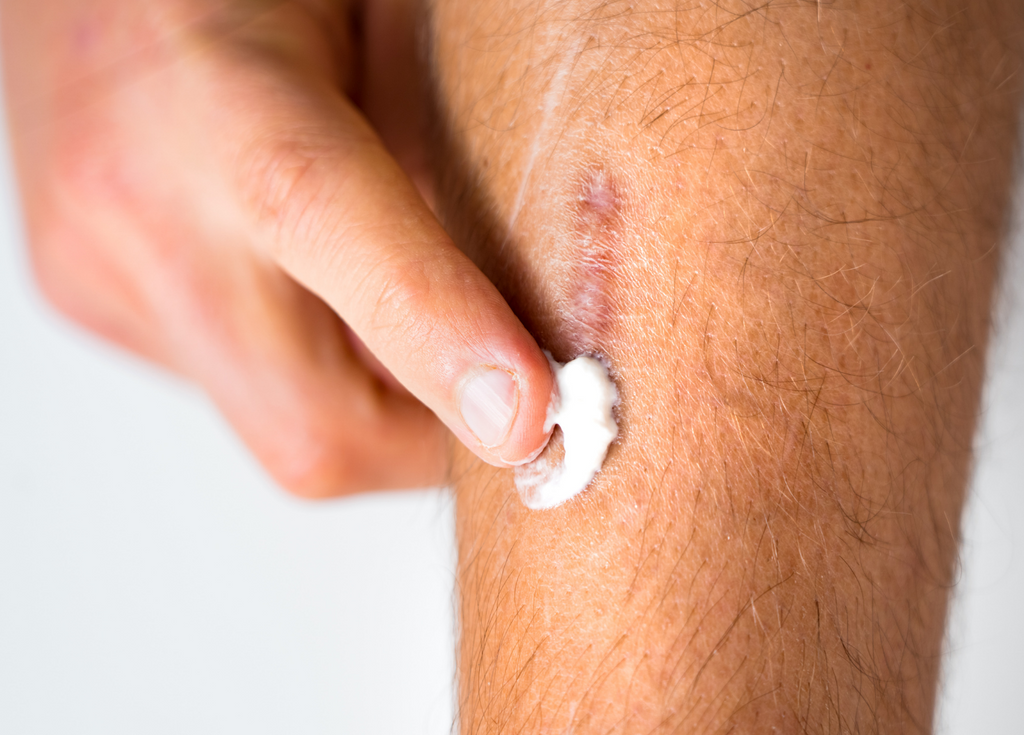 Not all scars are the same, and depending on the type, size, and location of the scar, improving scars may require different types or combinations of treatments. Scar improvement options include topical treatments such as creams, gels, oils, lotions, or silicone sheets, steroid injections, microneedling, laser treatments, or surgical procedures. If you have a scar that you would like to improve, it is important to consult with your doctor to see if one or more treatments/procedures may be beneficial to you.
When considering topical options, Skinuva® Scar is the most advanced scar cream on the market and is clinically proven to reduce the need for additional scar improvement treatments.
Different Types of Scar Improvement Treatments
If you have a raised hypertrophic or keloid scar, your doctor may suggest steroid injections to reduce the appearance of the scar. The injections are done directly into the scar and can not only help flatten them, but also relieve other symptoms such as itchiness or pain. You may need multiple injections to help improve the scar, and there is also the risk that the scar could reappear sometime after the injection(s).
Microneedling and laser treatments also may need to be performed multiple times if that is the chosen scar removal treatment, and there may be side effects such as temporary darkening or bruising of the skin or swelling and redness. Surgical scar revision can be done for larger scars, and your doctor may use a skin graft and take skin from another area of your body to replace the scar tissue.
Topical scar treatments like creams, gels, lotions, oils, or silicone sheets are the most cost effective and least invasive treatment method for improving scars. Silicone has long been considered the gold standard ingredient for improving scars and is proven to be effective in doing so. These products must be used daily and usually for at least 3 months to show the best results.
Skinuva® Scar is the most advanced scar cream on the market and is clinically proven to not only be more effective than regular silicone cream in minimizing the appearance of scars, but also shown to reduce the need for additional scar removal treatments.
Skinuva Scar Ingredients and Clinical Studies
Specific ingredients such as selective synthetic Growth Factors were incorporated into the formulation of Skinuva® Scar to create what is now recognized as one of the most advanced topical scar creams. The Growth Factors in Skinuva Scar reduce redness, pigmentation, and thickening of the skin and promote the correct type of collagen production needed for scarless wound healing. 
Skinuva Scar also includes silicone, which has been a key ingredient in treating scars for decades. By creating a barrier on the skin, silicone promotes a hydrated environment for the skin to heal and creates optimal conditions for Skinuva Scar's other ingredients to take effect. Other ingredients include Centella Asiatica (has exceptional wound healing properties), Hyaluronic Acid (promotes hydration as well as healthy cell function and healing and helps the growth factors in Skinuva Scar reach the skin more efficiently), Vitamin C (acts as a protective antioxidant, reduces hyperpigmentation, and promotes collagen production), and Aloe Vera (creates a hydrating environment as well as soothes the skin with its anti-inflammation properties).
In a clinical study published in the Journal of Drugs & Dermatology, Skinuva Scar was shown to reduce the need for additional treatments other than a topical cream, such as steroid and 5-fluorouracil injections.* No adverse reactions were reported using Skinuva Scar, as it is safe for all skin tones and types. You can read more on this clinical study as well as the other 4 studies published on Skinuva Scar here.
If you are interested in trying Skinuva Scar for your scar, you can purchase it here.